On Monday 22 February 2021 I set off to ride the Tour Aotearoa.  Riding with me on this adventure was my wind breaker and hero/hubbie Brynn Gilbertson, and my adventure cycling buddy and MTB expert Janet Spilman.  In this piece I'll write a bit about what the TA meant to me, give you a sense of a few of my personal highlights, some information on my set up in terms of equipment and preparation as well as a few helpful resources.  
First, a little about the TA.  Reputed to be one of the best bike packing adventures anywhere, the TA covers 3000 km of our beautiful country here in Aotearoa from Cape Reinga in the far north to Bluff in the deep south combining some of the best NZ Cycle Trail Great Rides, Heartland Rides, tracks, paths and lanes connected by quiet back country roads and the odd piece of main drag.  Huge kudos must go to Jonathan Kennett as the TA designer who along with his brothers Paul and Simon have been figuring out routes, writing guides, publishing cycling books and promoting cycling for more than 3 decades (see: https://www.kennett.co.nz/)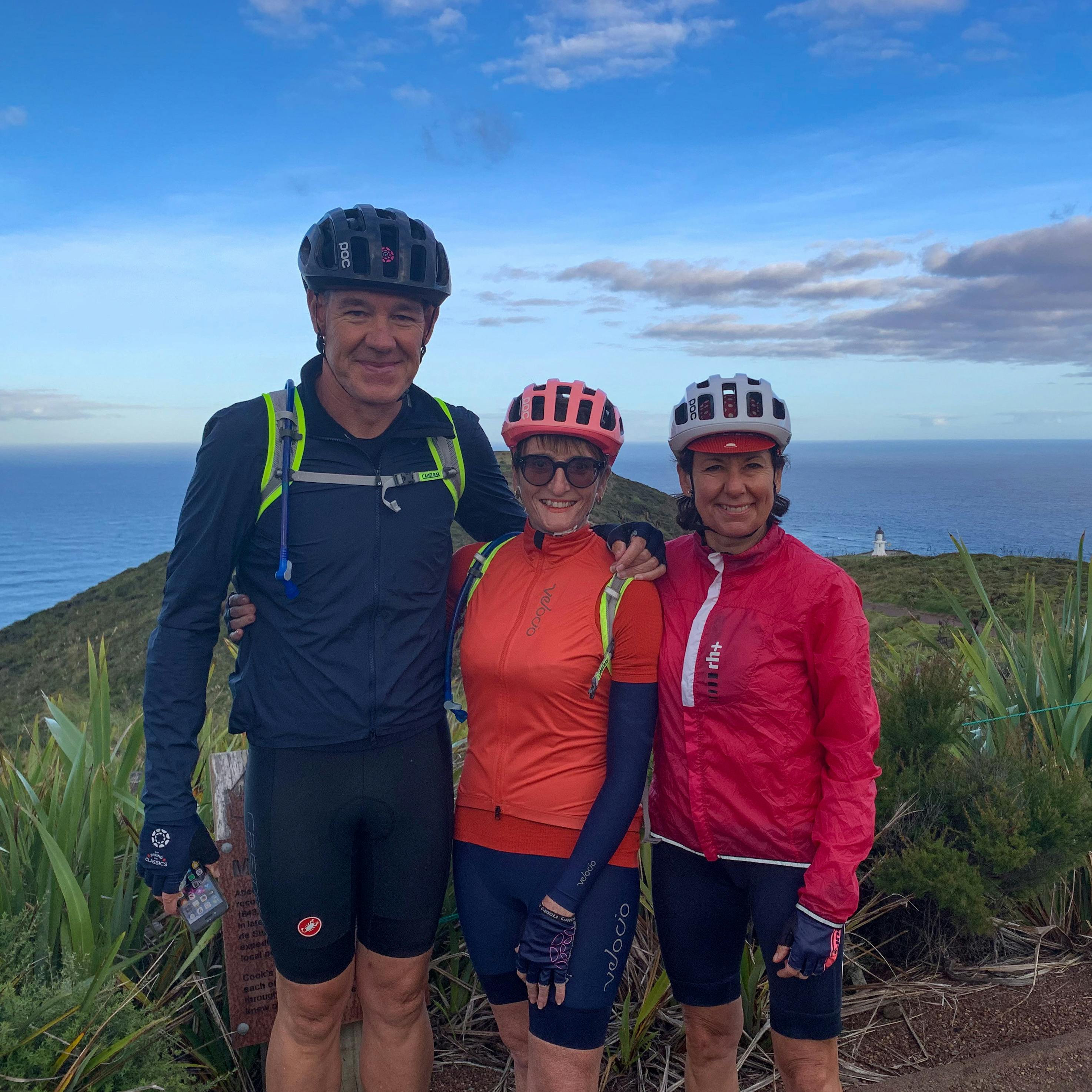 Launched in 2016, the TA "embraces the complete kaleidoscope of Kiwi terrain from beach, bush and mountains to forests, farmland and riverbanks, with lots of small settlements, some towns and a couple of cities along the way".  The TA Brevet is organised in alternate years starting in mid-February when riders set off from Cape Reinga in waves of 100/day.  This is a self-supported ride, some TA hitters carry tents and cooking stuff and camp out every night while others, like us, took advantage of the excellent array of motels and eateries along the route.
We were blessed with generally good weather and experienced many precious moments of joy. From the beauty of the stunning scenery to the chat with locals to the company of other TA riders/treasures such as the lads from the Waikato, Bob from Gissie and his mate Chris from Tauranga.  I've been asked the question "What was your favourite day?" a lot. It's a really hard, if not impossible, question to answer because I have so many favourite moments so here are some highlights:
The simple joy of riding a bike day after day; the thrill of replying to the question "Where you headed?" with the answer "Bluff"; the challenge of riding 3000kms unsupported over all sorts of challenging types of terrain; the Aroha, the land, the Maunga, the Awa, Te Tangata, Te Tangata, Te Tangata (the people, the people, the people).
Trail angels: these are some of NZ's finest from local lad Jesse in Northland who rode up beside us on a deserted gravel road north of Dargaville and offered us home grown watermelon and grapes to Mary out of Pohangina (Manawatu) whose picnic, to me, rivalled High Tea at the Ritz and our Southern trail angel Colleen who was roadside out of Winton with watermelon and words of encouragement, just what we needed towards the end of a really cold, wet day with just over 70 km to go to Bluff.
Defining my Tour Philosophy.  For me this was about the individual and the collective, it was about riding your own ride and being true to self, whilst also being respectful of others: it's my TA though it's also their TA, I loved that.
I'm a really visual person and have a great love of nature and the outdoors: post TA I realise how much this means to me. Pre TA I enjoyed the pleasure of a simple bike ride, post TA I relish it

Day one: riding 90 mile beach isn't everyone's cup of tea, it's long and straight and sand is really hard to ride on especially with a loaded bike and with wind, yep there is often a tricky breeze, but I loved this day.  There is something pretty magical about a group of 100 people starting on an adventure together, there was energy and excitement in the air and I found joy in taking time to ponder the challenge ahead and the people around me.  
Day two: Tane Mahuta: a majestic tree and a real highlight, such a special place in our land.  To ride to this point of the Tour, through the beauty of the Kauri forest and by foot to the foot of Tane Mahuta was very humbling.  Taking a moment to pause in wonder at the majestic sight of this king amongst kauri reminded me of the immense challenge I had undertaken.  Having taken inspiration from this giant, we rode on.
Pouto Point Ferry: arriving at the ferry was a day 3 highlight as getting there signalled our first real goal in sight, to get back to home in Auckland for the night after 3 days of riding.  The ride out from Darvagille towards the ferry is currently a gnarly rough gravel grind and quite hard work just to stay upright so to arrive at Pouto Point, in one piece, in time for a shower before the 2.5hour cruise over the Kaipara Harbour was delightful.  On the ferry there is a chance to pause, take a breath and chat to new friends and TA companions.
Stop over at home: stopping in Auckland was full of highlights.  Getting off the ferry with about 80 odd others called for patience in the offloading of bikes and repacking.  We set off towards home (Central Auckland) around 7:45pm which meant a bike into Auckland in the pitch black of night along roads which are poorly lit.  Janet and I were pretty over this section when a couple of treasured friends who had been waiting patiently for Janet with bars and drinks met us at the side of the road close to 9pm and escorted us with their car lights until we met the bike path at Triangle Rd. (I definitely feel #forever indebted to Rose and Lance for this act of kindness).  The next morning we dragged ourselves out of our lovely home and towards Maungwhau (Mount Eden).  Our fabulous friends Rose French and the Point Chev Coffee group dropped by to MEC and the café next door to give us hugs and send us on our way.  MEC gave our bikes a touch of Aroha and a once over and kicked us out the door and onwards South.  Our son Theo stopped in for coffee and drew me to tears as we said farewell to him. Tears of joy and challenge were a common occurrence amongst TA riders we met along the way, the emotional impact of starting this challenge, returning to home and leaving again was significant for many of us.
Finding joy in the seemingly dull sections: funny as it sounds this was a highlight for me.  Whether it was by popping in my headphones and listening to some favourite Spotify tunes or simply finding mindfulness in the moment, I enjoyed these times.
The beauty of riding at dusk: riding between 5-7:30pm isn't something an Auckland resident finds true delight in so to be able to cycle at dusk along country trails was a real treat.  Riding into the Timber trail lodge at 7:30pm on a Saturday evening was pure joy.  This track is an example of TA royalty.  
Elegantly described by 2016 TA rider Adam Lee as "the most incredibly lush trail you're likely to ever ride. It astounded me from the first moment I entered. The bright green moss and ferns, the bird calls and the soft loamy soil all made it more like riding a magic carpet in a dream than riding a bike. It's a special place. The trail climbs up and around the side of Mount Pureora, in which lives a dense forest of 1,000 year old podocarp trees. It quickly became one of the most remote and isolated sections of the Tour. The trails weren't overly technical, but they weren't easy…"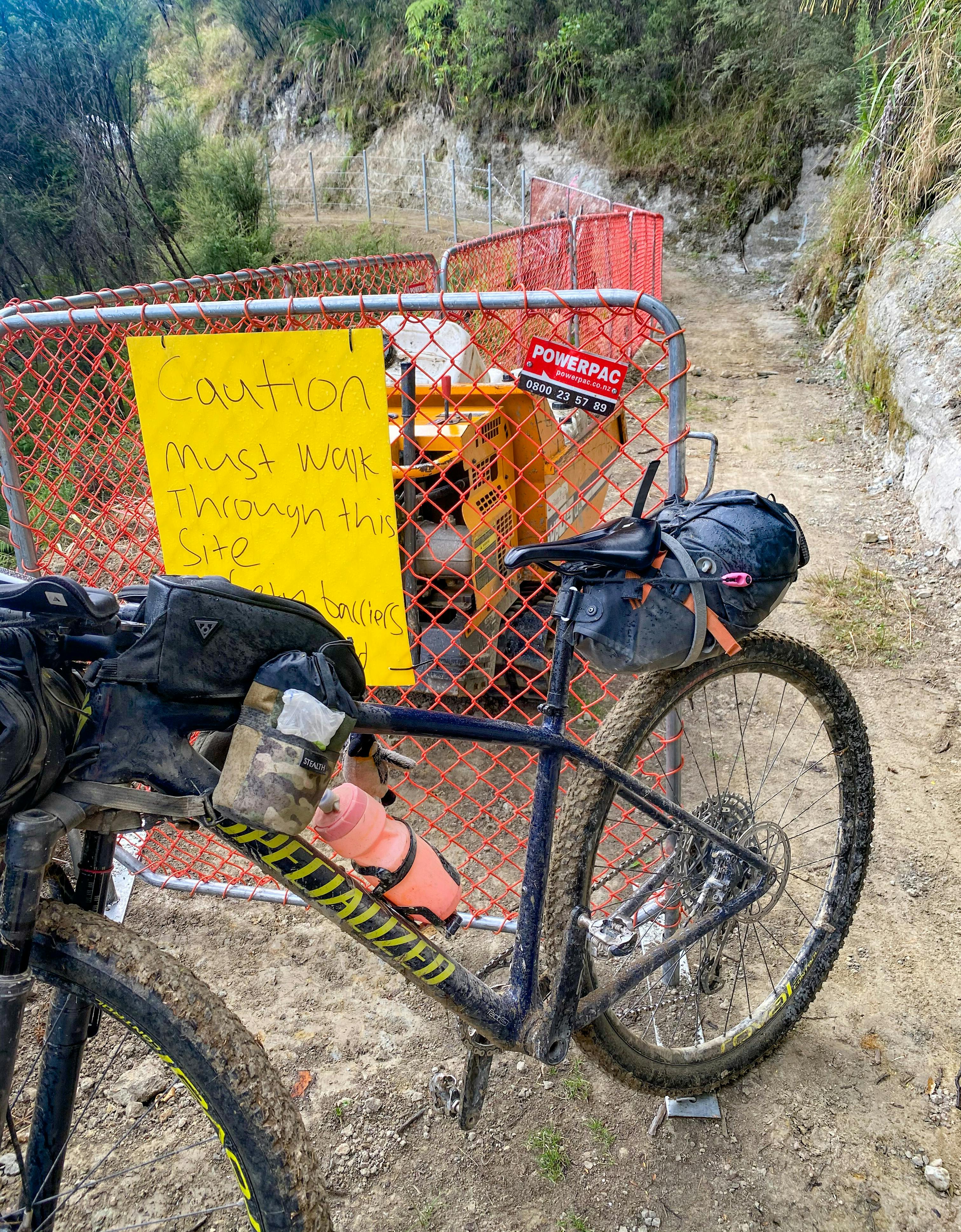 Attempting and often failing to find joy in the more challenging sections: I have coined these highlights as I'm too much of a Pollyanna to call them low lights but I'm still pretty poorly skilled at any MTB level above a grade 2, so I did often struggle.  Funnily enough though, one of the hardest sections from Blue Duck Lodge through part of the Nga ara Tuhono Mountain to Sea Route and onto the Bridge to No Where was a real highlight of a day for me. This 38km section with 22km of single track, took about 5hours including stops. I must have hiked my bike for a solid 2 hours but I didn't crash and ended the day with a heart full of aroha and joy at the world we live in, the vistas and the people.  A particularly joyful moment of this part of the day was a cup of tea courtesy of Bob and his billy, as we were waiting by the side of the river for our jet boat taxi, so satisfying.  The trip down the Mighty Whanganui River by jet boat to Pipiriki was a real highlight, time off the bike to ponder the adventure so far, saviour the stunning vistas and enjoy the unique opportunity to order lunch via the onboard radio through our knowledgeable driver as we took off. Arriving to find yummy toasties ready to eat, bliss. After cleaning our bikes, we had another 4 hour ride to finish the day in Whanganui, it was a blissful afternoon spin topped off by another TA Rider Rowan's wife and buddies, waiting at the top of the "Gentle Annie" climb with treats galore which they shared with us. 
Day 13 started with a stunning ride from Picton to Havelock around the Queen Charlotte Sounds and onto Pelorus Bridge.  The Maungatapu Saddle between Havelock and Nelson though was fit solely for goats and was truly brutal for me.  The combination of really loose dry rock and super steep tracks left me no rideable surface, I fell off in the first few metres and felt my confidence knocked and deflated from the bottom.  Hiking my bike up 700 odd metres over 1hour 40minutes was hard but doable however I found the descent unnerving and even worse as my knees jarred and my feet slipped constantly, I couldn't find any sense of stability and there was just no easy way for me to get down in cycle shoes.  I was very poor company and shouted much abuse at the Maunga, I am sure it was pleased to see the back of me when I finally limped off and onto the gravel road into Nelson.  We ate a lovely late lunch there and continued onto the Wakefield Hotel for a Saturday night entertainment bonus with Karaoke night!  The anguish of the saddle slipped away as the evening unfolded. 
Day 15: Murchison to Reefton over the gorgeous chalky roads of the Maruia Saddle, our very own Strade Bianche: 5 x river crossings, simply stunning.  At this stage we had ridden 2000 km and climbed more than Mt Everest in height, we were humming.  
Day 17: West Coast Wilderness Trail: another absolute cracker of a day riding from Kumara to Ross, raining cats and dogs for 4 hours but stunning riding and blessed by a hot green tea at Cowboy Paradise (definitely not paradise so please pause to read that detail, a place with a seriously weird vibe).  Lunch of the tour at Hokitika, whitebait fritters and fries, now that was bliss. Onwards to Ross which was a delightful afternoon spin on a flat trail into Ross. A true highlight on tour must be the local chat in the Ross Tavern post our ride. So good.
Now to cover the measures I took to prepare for the TA. Firstly, I knew I needed to increase my MTB skills so about mid-year I booked a couple of skills sessions with Janet Stark, MTB coach, she is awesome. We rode in the Hunua's and at Totara Park. I was pretty 'road' fit by the November prior.  I completed 5 passes (4 days riding/racing from Chch to Hamner Springs to Greymouth to Arthurs Pass and back to Chch (600 kms and 6000 m of climbing).  This gave me a good base.  From mid-November I switched to my MTB: a Specialized Epic Hard Tail: I love this bike.  Some TA riders go for a gravel bike for a bit more speed but for me, the Epic was awesome, 'comfy as' and it's handling gave me more confidence on the off road sections.  I rode at Totara Park, Riverhead the gravel loop at Puhoi a few times and rode at Woodhill once.  I also rode the Timbertrail and a few other trails around Taupo. I rode about 300 km a week or so over Christmas and included a couple of rides to the Coromandel on my MTB with some load, not full but enough to get the feel of the bags.  
In terms of equipment along with my awesome Specialized Epic, for bags I used the Ortoleb small saddle bag (drybags inside), the specialized harness system on the front with a mid-size drybag on the outside (smaller drybags inside), 2 x Stealth Stem pouches and a good sized top tube bag. I tried to use the top tube and stem pouches for everything I needed during the day and that worked really well for me.
Finally a few big thanks that I'd like to make. Firstly, thanks to Mark Taylor from MEC for inspiration and heaps of helpful advice (and all the amazing staff at MEC), to Emma Hadley (MEC Bikes - St Heliers) for inspiration and laughs, Rose French for inspiration, fab training chat and friendship, Brynn for the inspiration for this ride and for being so patient on Tour and for adventure cycling buddy Janet Spilman for all the help, advice and friendship, pre and during the tour.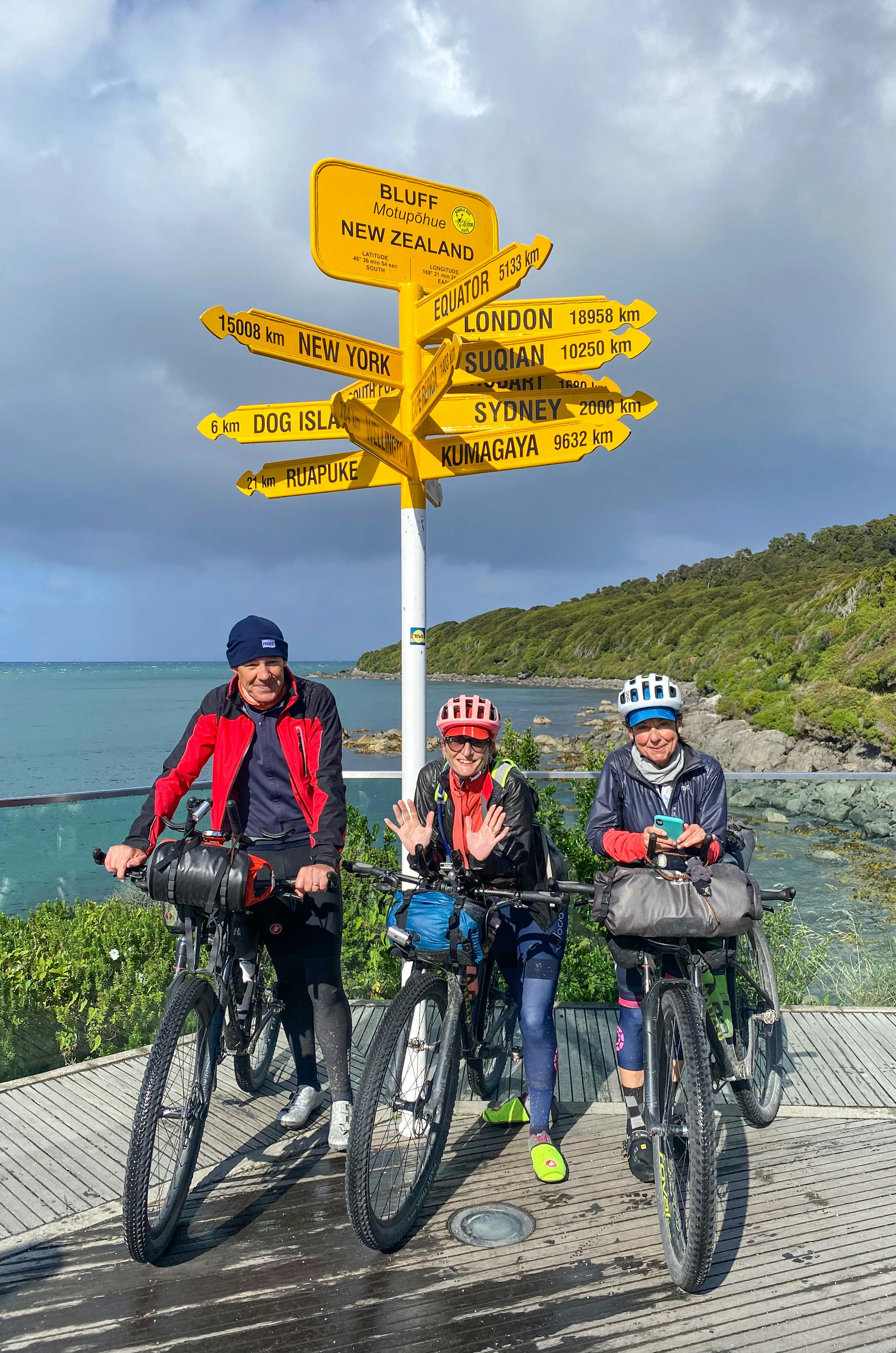 Helpful Resources:
Tour Aotearoa Official Guides, spilt into North Is and South Is, 3rd edition latest update
Tour Aotearoa 2020 - Rod Oram 2020, blog
Rudy's Tour Aotearoa Poem - Rudy Baptist 2020